The last 48 hours in New Zealand
After a short night of playing cards and delicious cold drinks we wake up in the morning in Onewhero. Already the day before last in New Zealand is starting now.
The four of us have breakfast together in the van and then decide to drive back to Auckland.
We are invited to one of the most interesting ice cream parlours in New Zealand, the ice cream parlour called Giapo, because here they serve ice cream not only in croissants. At Giapo they serve ice cream in all possible (and impossible) forms. Have you ever eaten an ice cream in Sky Tower form? Ok, neither have we, so let's go to Auckland and see all the fun for real.
Who remembers, already in 2017 at the end of our working holiday we were already at Giapo's and had a delicious ice cream. Back then, to celebrate our car sale, the original post can be found here in the blog.
An ice cream at Giapo
After a short drive to Auckland, we park just outside the city centre to save the expensive parking fees. Along the water we walk comfortably towards the city centre.
At Giapo we queue up for customers and use the waiting time to have a look at the different ice cream specialities. We are curious, because some of the ice cream formations look so huge that we are not sure if we can manage them alone.
When it's our turn we get the chance to try every kind of ice cream we can think of. After we are sure about the choice of ice cream, we discuss how to divide our ice cream specialities. We decide on the Sky Tower and the Octopus, both are real things with a history in New Zealand. The Sky Tower is located in Auckland and is often called the most striking landmark of the skyline, the Octopus is exhibited in the Te Papa Museum in Wellington, both of which we have already seen.
After a short waiting time, the four of us get two ice cream specialities served. I think the photo speaks for itself.
The portions are big for the money, the four of us didn't manage to eat both ice creams. So, share one ice cream and better leave a second time if you have room in your stomach afterwards.
After we have comfortably eaten our ice cream, we walk to the Sky Tower.
A visit to the Casino in New Zealand
First, we want to see the Sky Tower from close up, secondly there is a casino in the building and we want to see what we can experience with a little money and luck.
The first negative experience is when we want to enter the casino, because backpacks are not allowed there. At the counter where we want to hand in our backpacks, we are then informed that not only backpacks are handed in there but also that they must not contain any drinks.
Reluctantly we take our drinking bottles with water out of the backpacks, because we are supposed to empty them now… (we did not try to discuss about the sense or nonsense of this).
After we have completed this mission, we are finally allowed to go to the casino. Philipp and I have set ourselves a small limit each and now let's see what we can do with our money.
The Casino in Auckland
The choice of games at the Casino in Auckland is huge. It takes us 15 minutes to get an overview of all the games. Besides numerous different slot machines, there are also poker, blackjack, roulette and some other games we have never seen before.
We decide to try our luck at roulette, but quickly notice that Philipp has more success. So, I decide to try my luck at Blackjack. After a few small successes I lose my money at the end of the afternoon. The bank (or the casino) always wins somehow.
After a relaxed afternoon we take a ride from the city centre to our parking lot at the waterfront.
From there we drive out of Auckland further north and look for a nice Freedom Camp for our last night.
The last night in the van
We drive from Auckland to Freedom Camp at Gulf Harbour. Here there is a nice little Freedom Camp at the harbour, which was quite busy during our visit. Officially you are only allowed to stand in a certain area of the parking lot, but we found this only at the second look. So, watch out where you stand if you want to stay overnight at Gulf Harbour.
Together we cook together and spend the evening as a foursome with card games.
Very late we go to bed, because this will be our last night together for everyone.
The last day in New Zealand
Together we start the day with a breakfast. After a relaxed morning and a few photos of the course, we slowly start our way towards Auckland.
In the afternoon we have to return the rented camper, where first Charlotte and then Thereza spent the time in New Zealand with me.
Meanwhile Philipp drives my actual van which I haven't sold anymore. So, I have another reason to come back to New Zealand faster.
After we have cleaned and filled up everything at the rental camper again, we drive back to the airport and deliver the camper at Traveller's Autobarn.
The remaining food that will not last, we have packed in a big bag and hand it over at Traveller's Autobarn to the next couple arriving to pick up a van. The couple are very happy about a good stock of food and gratefully accept our donation.
The four of us drive to the pizzeria with our luggage, because we treat ourselves to a last dinner together before we part ways.
Zoe stays in Auckland because her flight to Australia is scheduled to leave the next day.
Thereza flies from Auckland back to Christchurch in the evening.
Philipp and I board the Emirates flight to Dubai in the evening, from there we part ways and Philipp continues to Frankfurt, while my flight from there goes to Düsseldorf.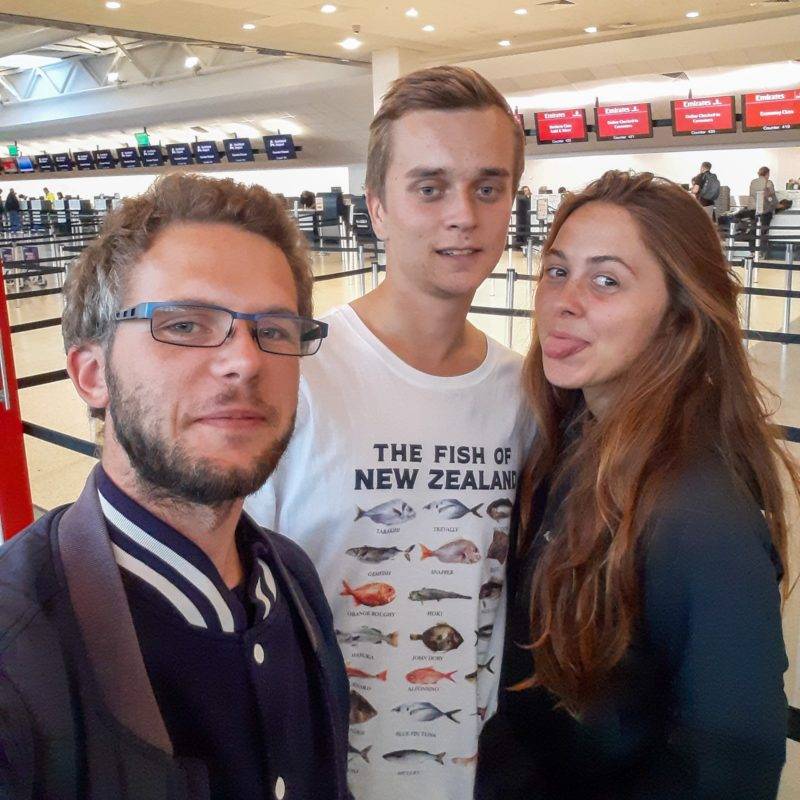 After all this time we are all in a way glad to be able to take a breath again.
Already at the airport it is hard to say goodbye.
Where to park a van for a few months in Auckland
After Philipp and Zoe get off at the airport, Thereza and I drive my van to a paid parking lot at the airport. Here I have booked a place for four months. My decision to come back to New Zealand is already made at the departure.
The parking lot operator drives us with our luggage to the airport with a shuttle. Since Thereza's flight goes first, she gets off at the Domestic first. We say goodbye heartily, because we have learned to appreciate and love each other.
Afterwards I am let out at the International Airport and meet Philipp and Zoe again.
Two hours before departure Philipp and I go through the security check and leave a deeply sad Zoe at the airport.
How to miss your flight (almost)
In the waiting area Philipp and I look for a comfortable seat and start to copy and exchange last photos. Meanwhile time is rushing on tirelessly, only when our flight calls us out do, we realize that we are late.
We quickly pack our things and jog to the gate, together with the last call we enter the plane and congratulate each other that we made it after all.
I would be lying if this was my first Last Call for boarding, I have done this before in my past flights and even there I barely made it to the boarding.
The flight from Auckland to Dubai
Fortunately, the flight from Auckland to Dubai is not fully booked, so Philipp and I share a comfortable row with four seats in the middle. Immediately after take-off Philipp lies down to sleep and I start to sort more photos.
Shocked, I realize that besides countless videos, a huge number of photos were taken.
The return flight is otherwise unspectacular and so Philipp only wakes up for dinner. Thanks to the socket on the seat I can sort and save all photos, then I start watching some movies and doze, interrupted by the meals.
In the morning we land in Dubai and have 3 hours to change planes. We find a café, have a last coffee together and say goodbye. After all the travel time together, it is hard to say goodbye because it was a great time.
From Dubai to Düsseldorf
On my last flight I am unfortunately less lucky, the flight is fuller and the three of us share a row of four, so unfortunately no sleep is possible.
The next time I will need not only my good headphones but also some kind of video streaming on my tablet to be able to watch meaningful series or movies in peace.
After about 7 hours I land in Düsseldorf and set off for a visit with my parents, this is how this year's stay in New Zealand ends.
You can see more of the stay in the previous articles, the numerous photos, on Instagram and of course with us on the YouTube channel. Have fun browsing.
Facts about the trip
For all those who would like to have some more facts about the trip. Here all number friends are satisfied.
Kilometres driven: approx. 10.000km
Spent fuel: approx. 1100l
Photos taken: 93.000
Recorded video minutes: 3.125 minutes
Drinking cups of coffee: 500 cups
Duration of stay: 88 days
Backpackers met: uncountable
Ask us anything
We run this blog so you can have a great time in New Zealand. All the articles and videos are free for anyone.
If you want to ask an individual question about Newzealand, your working holiday or anything else around travelling New Zealand, then this is your chance.
Even it always looks like holiday, this website and the project is a fulltime business. So you can support us with any question if you'd like.
Simply click the button and ask us, in exchange for your answer you can give what you value our time.
If every visitor would support us with 1€ per year, our business would be up running for long times. Therefore we count on your support!
A big thank you from the depth of our hearts. Julian & the team of Project-Newzealand